Lynda Stewart – Wednesday 16th August
Compton Acres is so excited to welcome local children's author Lynda Stewart to Harbour View Studio in the heart of the gardens for a morning of story telling, bee themed colouring crafts and your own book signing!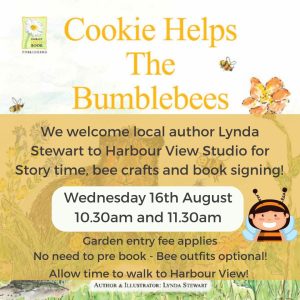 The first reading will start at 10.30am, the second at 11.30am.
The event is free, however standard garden entry will apply. Books will available to purchase in the Compton Acres gift shop.
Please allow time to walk around the gardens to get to Harbour View by 10.30am. Bee costumes are optional! Should you child not be able to sit on a standard chair, you wish to bring something for them to sit on.