Come and celebrate our Centenary Weekend in style!
Gents sort some spats and ladies find a flapper dress because the roaring '20s are making a colourful return to Compton Acres!
The historic gardens, which marks its 100th anniversary this year, is hosting a centenary weekend in April with four days of vintage-themed celebrations, including afternoon tea on Friday 17th, Saturday 18th and Monday 20th April, while on Sunday there will be a special lunch accompanied by a live jazz singer. The tearooms and their staff will be dressed in the 1920s style, and guests are invited to do the same – with prizes for the best outfits. So why not step back into the golden age of jazz and celebrate with us!
Spaces need to be booked in advance so if you'd like to attend please get in touch on 01202 700 778.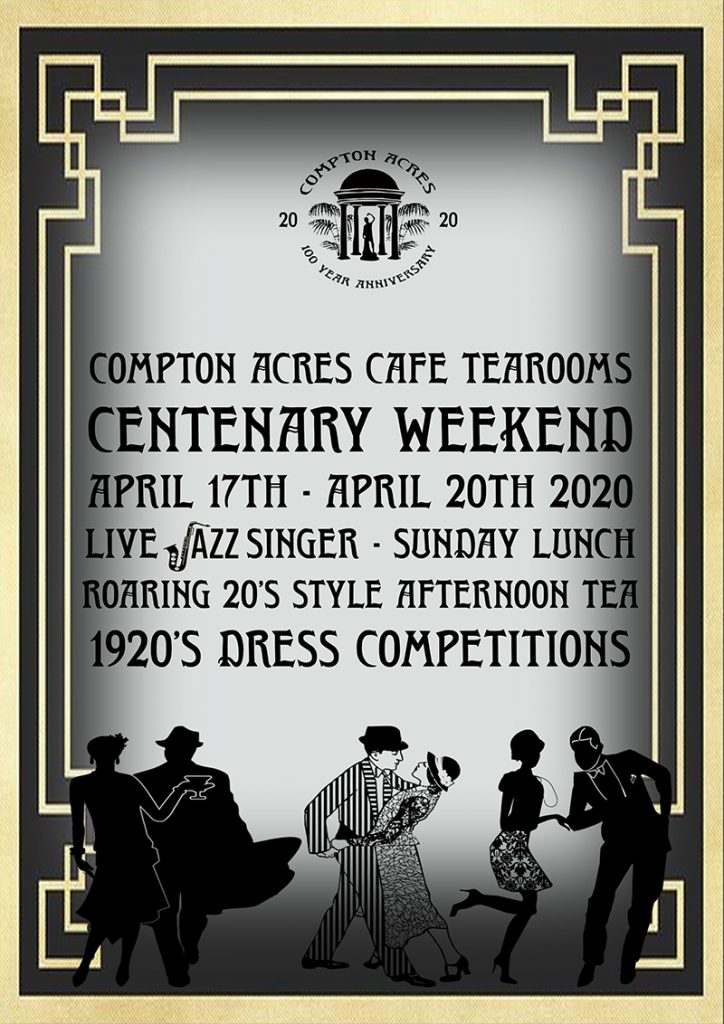 Centenary Sunday Lunch Menu – £22.95 per head
First Courses
Mulligatawny Soup
or
Stuffed Eggs a la  Russe
or
Potted Shrimps
or
Mushrooms a la Greque
Main Courses
Steak & Smoked Oyster Pie, served with Glazed Carrots,  Buttered Cabbage & Roast Potatoes
or
Fillets of Sole Veronique,  served with Creamed Potatoes & Petit Pois
or
Calves Liver & Bacon, served with Lyonnsise Potatoes & Cauliflower au Gratin
or
Roast Duck Breast,  served with Sage & Onion Stuffing, Bitter Orange Sauce,  Braised Celery & Potato Croquettes
Desserts 
Apricot, Raspberry & Sherry Trifle
or
Treacle Pudding with Custard Sauce
or
Creme Caramel
or
Apple Charlotte with Chantilly Cream
Coffee & Petit Fours
Centenary Afternoon Tea – £24.95 per head
A Choice of Afternoon, Earl Grey, Lapsang Souchong or Darjeeling Loose Leaf Tea
Plain & Raisin Scones with Strawberry Jam or Lemon Curd with Clotted Cream
A selection of the following sandwiches:
Peanut Butter
Rare Roast Beef &  Gentleman's Relish
Cucumber
Savouries
Salmon Mousse Vol au Vents
Smoked Chicken & Waldorf Salad Soft Roll
Cakes & Pastries
Raspberry & Pistachio Eclairs
Chocolate Macaron
Battenburg Cake
Strawberry  French Horn
Glass of Champagne