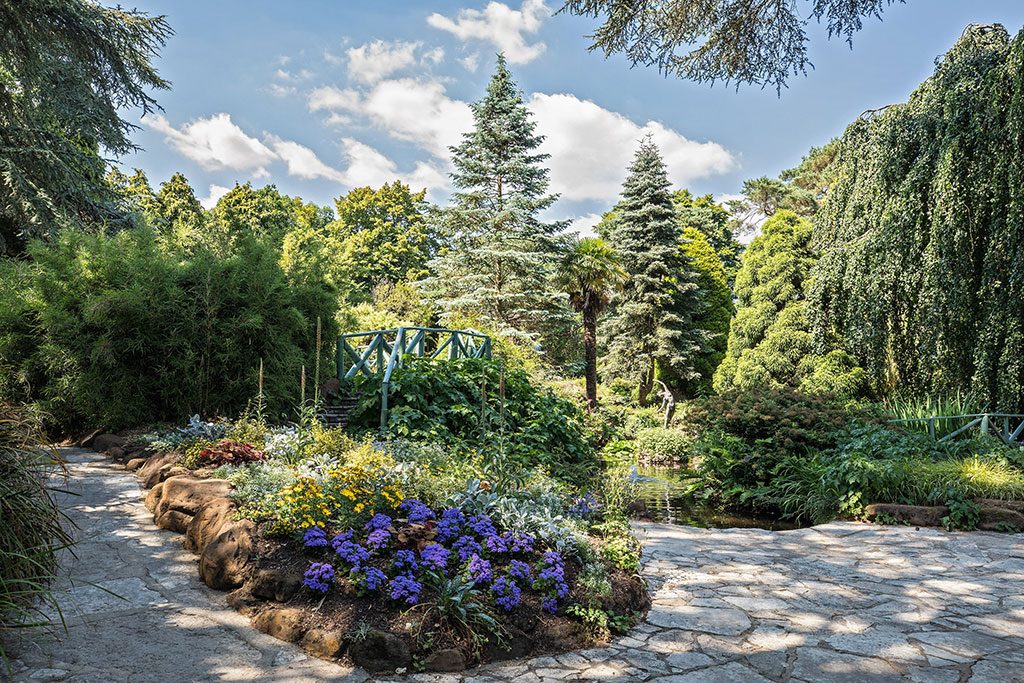 To celebrate the summer, we're hosting a competition over July and August to recognise the talents of amateur gardeners all over Dorset! If your garden is home to vibrant flowers, fabulous floral displays, creative plots and pots, or you simply think you have the finest home garden in Dorset – we'd love to see your horticultural creations.
We have four categories to enter to be in with the chance of winning:
An annual pass to Compton Acres
A personal guided tour of Compton Acres with our Horticultural Consultant and Five-Time Chelsea Flower Show Gold winner, Mary Payne MBE.
£30 Compton Acres Garden Centre Voucher
Plus, all winners and runners up will be featured in September's issue of Dorset Living!
The Categories
Favourite Homegrown Garden
Favourite Pots / Container Arrangement
Favourite Garden Photograph
Favourite Plant Photograph
Rules
Criteria
There are four possible categories to enter. Two horticultural (Favourite Homegrown Garden & Favourite Pots / Container Arrangement) and two photography (Favourite Garden Photograph & Favourite Plant Photograph). All entrants must be from amateur gardeners and photographers.
Horticultural categories criteria:
Ambition – how original is the design? Is there theatre, flair, atmosphere and impact?
Plant quality – think colour, impact, composition, health.
Finesse – how fine is the finish and attention to detail?
Photography categories criteria:
Creativity – what is unique and different about the photo? Does it stand out creatively?
Colour, Lighting, Exposure and Focus – How has the photo captured the subject?
Audience Appeal – Is the photo attractive, could this be seen hung up on someone's wall, does it have mass appeal?
Entry
Submit your photos by posting them on the Compton Acres Facebook page – https://www.facebook.com/ComptonAcres/ or by emailing them to contact@darrennortheast.co.uk
Photos must be submitted by Friday 26th July 2019.
Entries will then be judged by our expert panel who will whittle entries down to the final two in each category. The finalists will then be put to a public vote on Facebook.
Finalists will be contacted on the 1st August 2019 and will then have 13 days to get as many likes, comments and shares on their photo as possible!
The deadline for voting will be the 13th August 2019.
Terms & Conditions:
Eligibility
Competition is not open to employees (or their immediate families) of Compton Acres or Dorset Living.
Entrants must enter online via email or through the Compton Acres Facebook page and must be aged 18 years or older.
All entrants must be amateur gardeners or photographers. Any entries from professionals will be discounted
Entry
The competition is free to enter and no purchase is necessary.
The closing date for entries will be specified in the Competition Information (and may be extended at the absolute discretion of Compton Acres) and winners will be notified within 28 days of the closing date (or such other date specified in the Competition Information).
Compton Acres has the right at any time to require entrants to provide proof of identity as evidence of eligibility to participate. If an entrant fails to comply with a request for proof of identity, or provides false or misleading information, representatives of Compton Acres may at his/her discretion, disqualify the entrant from the competition, or, where appropriate allocate the prize to another eligible entrant.
Compton Acres accepts no responsibility for entries that are delayed or which are not received for any reason and also has no liability in respect of any incomplete entries that are received. Incomplete entries will not be counted and will be discarded. Compton Acres has no responsibility to inform any entrant that their entry is incomplete and not valid for entry to the competition.
By entering the competition entrants warrant that all information they submit is correct and not obscene or offensive or otherwise in breach of any third-party rights and Compton Acres reserves the right to verify the eligibility of all entrants. Compton Acres reserves the right to disqualify any entrant from the competition if it believes (in its sole discretion) that such entrant has breached any of these Terms.
Prize
The prize has no monetary value, is not transferable, and cannot be exchanged for other goods or services.
No cash alternative is available. Compton Acres reserve the right to offer an alternative prize of equal or greater value than that advertised.
Prize is not to be used in conjunction with any other offer.
Unless stated otherwise in the Competition Information Compton Acres accepts no responsibility for any costs or expenses incurred by the winner in connection with claiming any prize won in the competition (including travel to and from any event).
Selection of Winner
Winner will be chosen by judges selected by Compton Acres. Judges decision is final and no correspondence will be entered into.
Unless expressed otherwise in the Competition Information, if, for any reason, Compton Acres is unable to contact a winner to inform them that they have won a competition, or if a winner does not contact Compton Acres within a reasonable period of Compton Acres sending notification to such winner to confirm acceptance of a prize, then Compton Acres reserves the right (in its sole discretion) to select an alternative winner.
General
To the extent permissible under applicable law, Compton Acres shall not be liable to any entrant or for any loss or damage howsoever caused (whether in contract, tort (including, without limitation, negligence) statutory duty or otherwise) arising out of or in connection with the competition.
Entrants (including the winner) shall not do anything that could damage or harm the reputation of Compton Acres, or any products included as part of the competition prize.
The competition is governed by English law and any disputes arising in connection with the competition and/or these Terms will be subject to the exclusive jurisdiction of the courts of England.
Use of Data
Entrants agree that (if they win) they may be asked to take part in such reasonable competition-related publicity as Compton Acres may require and accept that Compton Acres may publicise their entry, including names, likeness and statements in connection with/resulting from the competition in any and all media. Entrants shall not enter into any correspondence or give interviews with any third party on any matters arising from the competition, without the prior written permission of Compton Acres.
Compton Acres and/or third party promoters for the competition may use data supplied by entrants to process the competition, inform winning participants of their winning entry, distribute prizes and, where the relevant marketing permissions have been collected, to contact entrants in relation to other competitions it runs or to market products or services it believes may be of interest to them.
Entry into this Competition shall constitute consent to the uses of data contained in these Terms.
If, at any time, entrants no longer wish to be contacted by Compton Acres, they should contact Compton Acres in accordance with our privacy policy.