Compton Acres is once again holding its popular Japanese Week – from 28th April to 6th May 2023. As always, visitors will be welcomed to both the Garden and the Plant Centre, where there will be a beautiful range of plants native to Japan available, in addition to Japanese-style statuary and ornaments.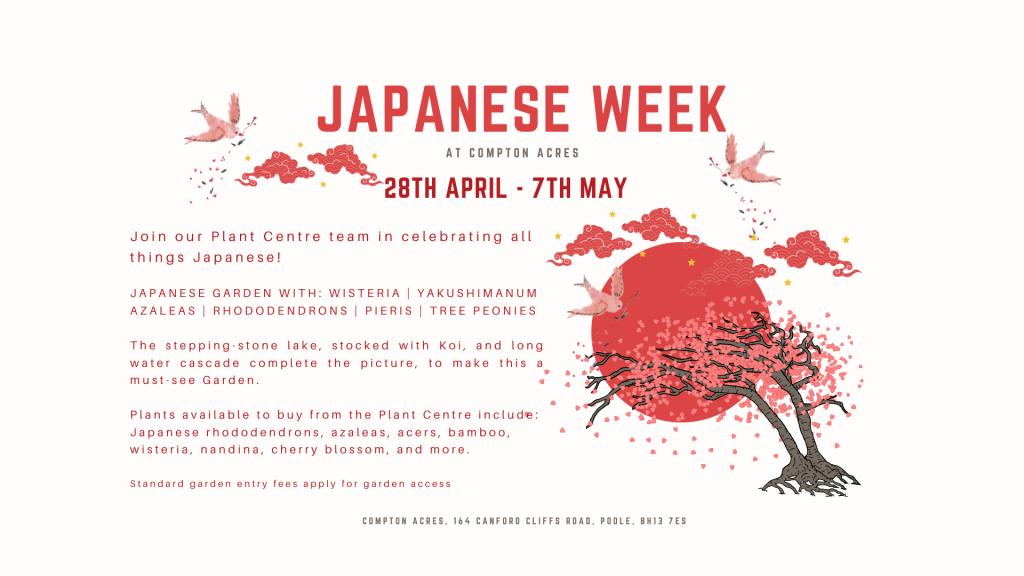 The Japanese Garden at Compton Acres was created a hundred years ago, designed by a Japanese architect and built by Japanese builders, justifying its claim to be one of the few genuine Japanese gardens in Europe.
The Garden has a fine collection of plants of Japanese origin, and their skilful positioning ensures there is interest throughout the year. However, April and May are the months when the Garden is at its most colourful.
To add to this, there are many authentic ornaments that were imported from Japan, by Compton Acres' first owner, and these include lanterns, Buddhas, storks and the traditional red Torro Gate.
Key plants to see in the Japanese Garden include a huge wisteria growing over the Tea House, a range of stunning Yakushimanum Azaleas, as well as Rhododendrons, Pieris and one of the most beautiful of tree peonies when in bloom. The stepping-stone lake, stocked with Koi, and long water cascade complete the picture, to make this a must-see garden.
Plants available to buy from the Plant Centre during Japanese Week will include Japanese Rhododendrons, Azaleas, Acers, Bamboo, Wisteria, Nandina, Cherry Blossom, and more.
Come along to Compton Acres, to experience the beauty and wonder of Japan – and Japanese-themed gardening.
Standard entry fees apply for the Japanese Garden.