Meet The Artist – Ama Menec joins us at Harbour View Studio on Thursday 26th October from 10.30am.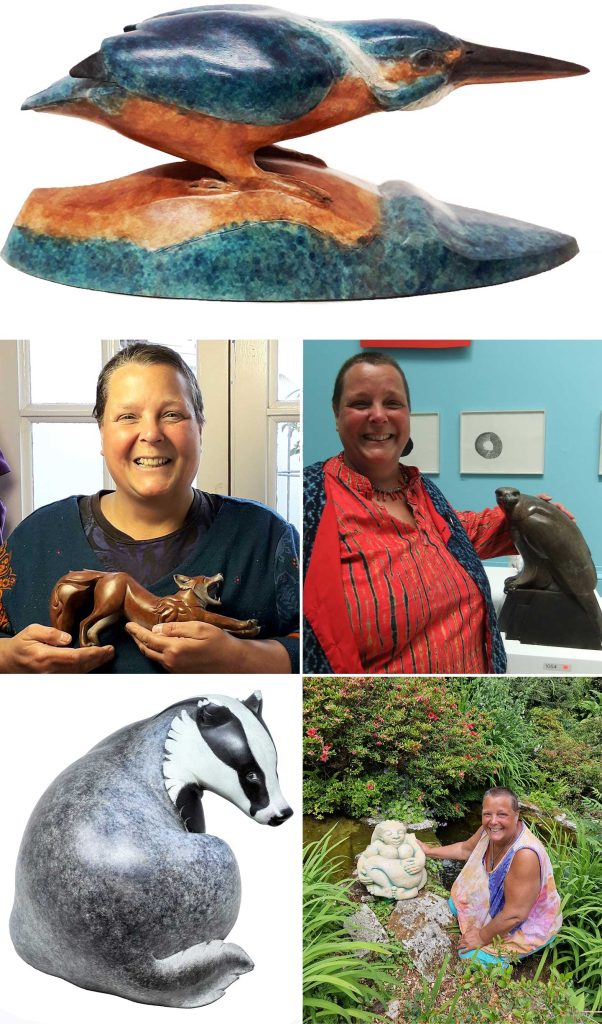 Dorset wildlife artist Ama Menec, from Weymouth, is delighted to announce that three of her wildlife bronze sculptures, have been accepted to the prestigious Society of Wildlife Artists , 'Natural Eye 2023' Exhibition at the Mall Galleries, starting on the 2nd of November. She said "I submitted three patinated foundry bronzes, a life-sized badger, a life-size kingfisher and a quarter sized fox, but I never thought all three would get accepted. I'm really thrilled!" Ms Menec, who often exhibits at three of the UK's 4 Royal Academies, currently also has a stretching yawning vixen sculpture at the Royal Ulster Academy in Belfast.
Her studio-gallery which she shares with Dorset born potter and printmaker Lea Phillips, is in Weymouth, 20A Gloucester Street, and called the Happy Crab Gallery. Ama told our reporter, "Our studio/Gallery is 2 minutes walk from the seafront, and we are both can Cancerians, so we are very Happy Crabs indeed to be able to work so close to the sea". Ama Menec's style, which is inspired by Art Deco stone carving, and from wood block prints, is of a streamlined naturalism. She uses a West Country foundry to cast her bronzes, so that she is able to go and oversee every step of the patination process, to give a precise and life like colouring to every piece, whilst also keeping to the pared back look of Art Deco. This close working relationship with the foundry, along with the skill of the finest patinators in the country, combine to give a unique look to her sculptures.
In addition to sculpting wildlife in life-like patinated foundry bronze, Ama also sculpts wildlife and ancient Goddesses in stoneware clay. She makes everything from table centrepieces, to large garden sculpture, and has some of her ceramic garden sculptures currently on display, at the 'Into The Wild Exhibition' at Compton Acres Garden in Poole. On Thursday the 26th of October she will be an Artist in Residence at Compton Acres, where she will be working on her next bronze and chatting to the public about her artwork. She shall also be showing some of her smaller wildlife wall hanging ceramic sculptures, with 10% of sales on the day going to the Dorset Wildlife Trust. The exhibition, 'Into The Wild' finishes on the 31st of October.
The Mall Galleries Natural Eye 2023 exhibition runs from the 2nd to the 11th of November. Preview invitations for the 1st November can be obtained from the artist directly.
To find out more about Ama and her work visit her site here.